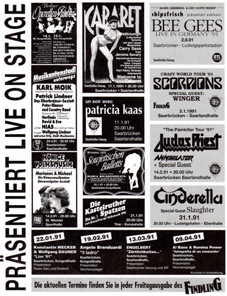 If you want to create an unforgettable experience for your customers, provide a perfect setting for a product presentation or would like to honour your employees – with us at your side, then you, your company and/or your product will become unforgettable.
Our associates have been independently active in the concert industry for over 35 years. We would like to offer the resulting unique relationships we enjoy with stars in all categories to companies interested in hosting events for their customers or employees. Charity events are also included in our range of tasks. Not only can we take over the entire program planning for you – if desired, we also organise the complete event, find the right location, valet parking, limousine service, security, famous presenters and exclusive catering possibilities.
Event equipment
In this regard, infrastructure and logistics (stage construction, seating, power supply, temporary sets, hostesses and sanitary facilities with VIP fittings) are particularly important. We also attach great value to the event design (lighting, sound system, video projection, laser technology and pyrotechnics, decoration and special effects).
Optimal marketing
In addition, we would be delighted to advise you in the choice of suitable artists to contribute to optimising the marketing of your products for a specific target group – both at home and abroad.
Our numerous references of a large number of prestigious companies speak for themselves.